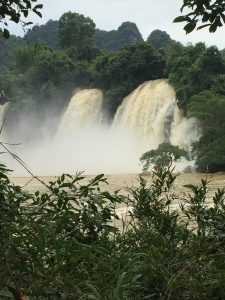 Detian Waterfalls
From Hong Kong, it's a short flight to Nanning, capital of Guangxi Province in China's deep south. During the French colonial era in Indochina, their railway connected Vietnam with Nanning and Kunming, which we'll visit later. When I ask about visiting the old part of town, the hotel clerk gives me only a blank look. This is my first indication, but by no means the last, of how much of the Chinese past has been erased.



Modern Nanning is a vast construction site of towers, bamboo scaffolding, bulldozers, cranes—and empty towers. From our brand-new Wanda Resort we glimpse more high-rises across the river.



Behind us are streets of upscale facades—also developed by the Wanda Corporation—completely empty. All this might be a sign of great optimism, or of severely over-extended banks. The boom has enriched many—apartment flipping is common—and provided many jobs. It has also destroyed much of China's heritage and gutted the environment. However, the general prosperity is breathtaking. We discover, next door to our hotel, the fabulous Wanda Mall.



June-July is the rainy season in southern China. If it's not raining, it's humid and cloudy. Under turbulent skies, we board the bus early the next morning for Detian Waterfalls, known in Vietnam as Ban Gioc, located on the border between the two nations. Our journey will take at least six hours. Each way.



Shortly after we leave Nanning, the gasps begin… the Guangxi landscape is like no other. I am jet-lagged and dazed, which makes for an even more dream-like experience.


To call it lush is an understatement. Every bit of land carpeted with dense fields. Sudden upthrusts of jagged velvet-green stone rising into lowering clouds, heavy with moisture.


Soon the road begins rising into these mountains.
The scenes are timeless—water buffalo plowing the rice fields, terraced hills dotted with white stone tombstones. Generations stretching to antiquity.


After a time, a muddy river appears, and I have the sense of wildness. How easy would it be for jungle to overtake these fields. How hard these people must work to hold their own against the power of nature.



Five hours into our journey, we approach a prosperous regional capital. Streets filled with shops and shiny foreign cars.
In the smaller bus, we wind our way uphill through wilder, more rugged terrain, the Guichun River gathering force.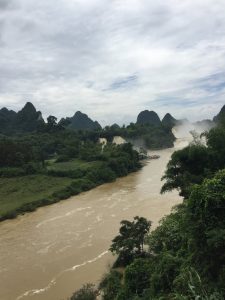 And now we arrive. A short muddy path takes us to our first sight of the thundering cascade—the world's fourth largest transnational waterfall.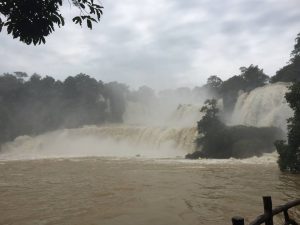 We push on through 100% humidity, rain, and river spray. It's been a rainy season, the river expanding over its banks.


Moving through pure jungle, soaked…
we reach the boundary marker between China and Vietnam.
Heading back, I turn time and again, awed by this extravagant display of nature's magnificence and power.


I imagine the French colonial official who once lived here in splendid isolation.

Drained and drenched, we board our small bus to the large bus terminal at the end of town, setting off in late afternoon.
I see new sights, smaller moments in an ancient land where nature still reigns supreme.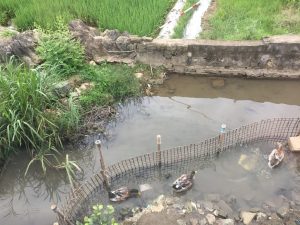 After dark, a heavy rain begins to fall. During a fuel stop, I glimpse the village night life.
Across the road, a woman cleaning her restaurant…


Two doors down, the action continues.

And inside the bus, a raucous video draws laughter and keeps the driver awake. Fourteen hours after leaving Nanning, we return to our hotel—and our welcome beds. Tomorrow we must rise early to catch the train.