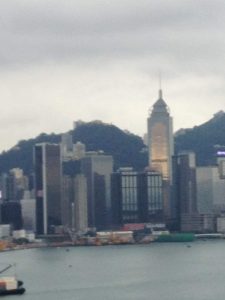 I avoid red-eyes like the plague, but  there we were, off for Hong Kong, only hours after my 23-year-old daughter and her second-graders finished the countdown to summer break! Eighteen months ago, we'd traveled to India and Sri Lanka for my WW2 research. Now to continue in China.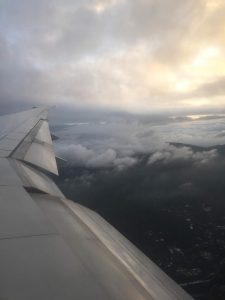 Around dawn Sunday, approaching the glamorous "new" Lantau Island airport, I recall my many hair-raising descents past packed tenements into funky old Kai Tek, on the Kowloon (mainland) side. Hong Kong Island, 
across the harbor,
 gives its name to this 
vital metropolis that still mesmerizes me. It pains me that for the first time we won't be staying here.
But with tomorrow's early flight, I've booked a seaside hotel not far from the airport–and the former shipyard that is now Disneyland. The view is not bad!

A high point of Asian travel is the breakfast buffets. We feast on luscious fruit, omelettes, parathas, spicy noodle soup. After my fifth cappuccino, I'm ready to enter the local time zone. We plan to "cruise" through it by ferry. Easy. We think.
Given the humidity, most people are happy for the air-conditioned "fast" ship, but the close air makes us drowsy. I am revived as we move into the waters of my beloved Victoria Harbour.

At Hong Kong Central, we board another closed ferry to Cheung Chau, a pedestrian-only island where I passed significant time many moons ago.
Along the busy waterfront, we join the Sunday crowds, many with hand fans or little battery-operated ones. But, although bludgeoned by the heat, we are here, and I hope to catch a memory or two.  
One block inland, we find brief shelter under a grand old banyan.
It's even hotter in the narrow, shop-lined back alleys. I look around… from which of these lanes did Shirley Lamb recognize my laugh, in which basement restaurant? (But that's another story.)
Later, I discover the library and, in the children's section, a "Giant Biography" of George Washington. Now a Chinese territory, Hong Kong maintains her outward-turning spirit.
Wilting, we return down the waterfront, admiring this cool windsurfer. 
Heading back to Lantau, we find cheap passage on the open-air "slow boat." It's a great pleasure to sit and feel the salt breeze.
Ready to put our heads down, we're even more grateful to return to our hotel in time for a glorious sunset over the South China Sea.
Early tomorrow we're off to southern China–and the magnificent Detian Transnational Waterfalls on the border with Vietnam.
Next Stop: Nanning, China