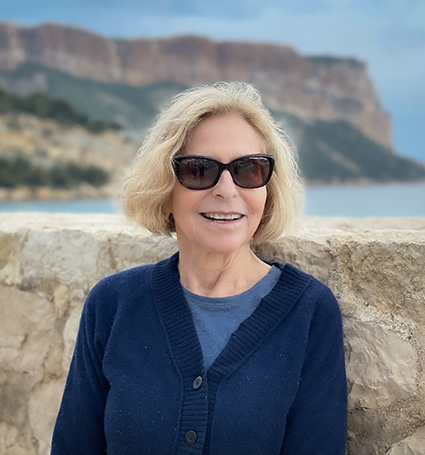 Diana Chambers was born with a book in one hand and a passport in the other. She began her early explorations in the library, plotting adventures on her world globe. Maybe it was A Tale of Two Cities, but she was soon wandering the cobblestones of Paris. After graduating UC Berkeley in Asian Art History, she worked at a Paris translation agency and learned to dream in French. Inevitably, Asia called, and she began an importing business, which led, circuitously, to Hollywood costuming and then, scriptwriting.
Diana spent a few years in Toronto and Paris as a writer for a US/Canadian/French detective series. She also wrote several articles about her travels. Characters who sprang from these experiences began demanding their own novels, and you can meet them in her spy thriller Stinger, set in Afghanistan and Pakistan, and the sequel, The Company She Keeps, set in Paris and Teheran. Her work has been praised for its riveting plots, unusual characters, and deep sense of place.
One day in Malibu, Diana met retired actress Nancy Valentine, the former Maharani of Cooch Behar, an ancient principality in northeast India. A story idea was born. Thirty years later, The Star of India was published by Penguin Random House India in mid-2020. She is currently adapting the novel as a pilot script for a miniseries.
Diana is a member of the Writers Guild of America, Mystery Writers of America, and past President of Sisters in Crime-NorCal. She lives in a small San Francisco-area town with her fellow-traveler husband, arty daughter, and bossy cat, Marco Polo. For more on her books and adventures, please follow her at Twitter, Facebook, and Instagram.