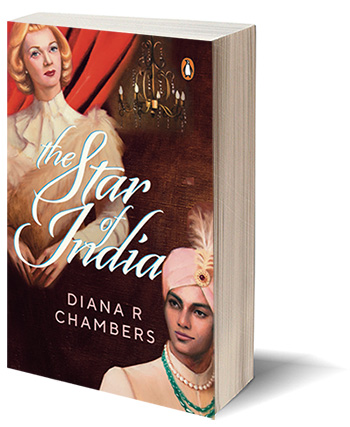 The Star of India is available from Penguin Random House India!
The Star of India is based on the true-life romance of rising young actress Nancy Valentine ("the next Lana Turner") and Cambridge-educated WW2 hero, the Maharaja of Cooch Behar.
After their fated meeting in postwar Hollywood, the dashing ruler sweeps Nancy back home during India's tumultuous run-up to Independence. Amid the power struggles of every political, royal, and religious faction, Nancy is entangled in a whirlwind of intrigue, espionage, and attempted murder. The Maharaja, known as Bhaiya by family and friends, comes under great pressure from his elegant and formidable mother, Indira of Cooch Behar, who believes his marriage to a foreigner will weaken the family's position with their people—and make them vulnerable to a government takeover.
Amid growing opposition to the couple's union, the state's fabled Mughal Ruby disappears, and an ancient prophecy will shadow them all.
Events and Interviews:
The Universe Writes with Diana Chambers, author of The Star of India, in conversation with journalist Mandira Nayar. Time: Jun 30, 2020 08:00 PM India
Sponsored by the the Prabha Khaitan Foundation, focusing on the social, cultural, and educational advancement of society.
Read interviews with Diana from Mid-Day and The Week
Diana R. Chambers reveals the intriguing secrets behind the making of this book and answers some fun questions about her love for India, in an exciting conversation with RJ Stutee Ghosh. Watch the replay on Facebook Live!
Buy it now:


---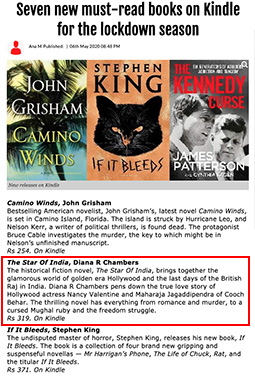 One of "seven new must-read books on Kindle for the lockdown season"!
"The Star Of India brings together the glamorous world of golden era Hollywood and the last days of the British Raj in India… The thrilling novel has everything from romance and murder, to a cursed Mughal ruby and the freedom struggle."
—The New Indian Express
"Part biography, part fiction and in great measure unseen history, this retelling speaks of exhaustive knowledge and research and is jam-packed with startling revelations about various members of the royal family in question, of Cooch Behar, as well as of other celebrated Indian royalty… For lovers of historical fiction, this is a special treat; the true story of a little blonde girl with an unusual affinity for India who meets and woos a most extraordinary man of destiny."
—Deccan Herald
"This elegant novel blends the Golden Age of Hollywood with the fiery last days of India under British rule. Diana Chambers envelops readers in a world of romance and intrigue with her lush evocation of place and multi-layered depiction of the passionate relationship between an American starlet and the forward-thinking maharaja whose love for her threatens to bring his kingdom crashing down. With shades of Isak Dinesen and E.M. Forster, The Star of India anchors an intimate story within one of the most fascinating eras of the 20th century."
—Kim Fay, Edgar Finalist for Best First Novel, The Map of Lost Memories