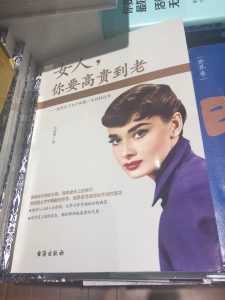 Eternal Audrey at Changsha Airport newsstand
After many detours, it's back to China. We've been heading north from the Vietnam border of Guangxi Province to Hunan Province—still in the south yet far from the rural, traditional countryside we've been traversing. It's a shock arriving at the huge railway station of capital Changsha. Hunan is the birthplace of Mao Zedong, who has been resurrected as a figure of reverence by the current leadership. His home village is a place of pilgrimage. We did not visit.
At Changsha's Mayishun 89 hotel, a beautifully restored mansion, I get my first glimpse of how precious are pieces of the past in a land where 20C history was erased. For the rest of our travels, I'll see the value placed on historic artifacts, mostly destroyed during Mao's Cultural Revolution against the Four Olds—Old Customs, Old Culture, Old Habits, and Old Ideas. This loss is still felt today.


As my book is partly set in 1940s China, I'm "scouting" locations. Perhaps this will be the secret police chief's sitting room. And bath.


My daughter calls breakfast a social construct. Why not greet the day with spicy noodle soup with eggs—and a side of watermelon?
Outside the courtyard gate, Changsha's summer humidity makes it difficult to move. We're not sorry to board our cross-country flight to the mountains of fabled Dali, Yunnan Province. This southwest region borders Thailand, Laos, and Burma, creating a mix of bloodlines with several indigenous peoples. From the days of warlords and warring kingdoms… Dali's old city walls.
The Old Town walls and temple at night.
Avoiding China's pervasive over-development, Dali has followed a wiser path. As a result the natural beauty and traditional culture are a big tourist draw. Especially for the majority Han Chinese, who are drawn to its village-like charm, clean air—and again, sense of a lost past. Everyone hits Old Town's rousing night market.
The Cangshan mountains provide a stunning backdrop for the old market street.
Dali's traditional style is reflected in these views from our homey yet refined Old Town guesthouse, Yunxi Boutique Inn. It's a fine place to chill after our busy travel—especially its peaceful terrace.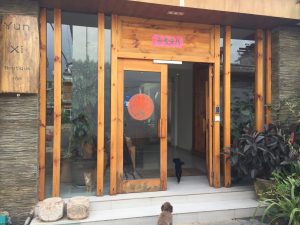 Yun Xi Boutique Inn
Reaching Lijiang two hours later, I'm seething at the tragedy of tourism run amok. Even so, this old tribal village is insanely lovely.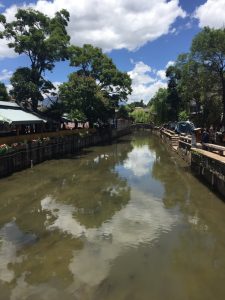 Lijiang is a World Heritage site, which "deserves protection for the benefit of all humanity." Seeing this tourist Disneyland, I doubt the cynical development is what UNESCO envisioned.
Yet Lijiang's natural charm can not be denied, every angle massively photogenic.


Conflicted by the pull of past and present, we take the bus back to Dali for more Night Market fun.
Next stop: Kunming, Yunnan