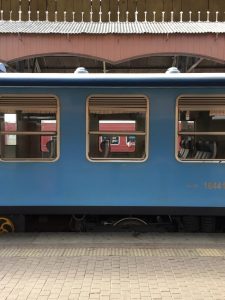 I'm here to research my latest novel, which takes place partly in Kandy, Sri Lanka, a remote kingdom until the British blasted a railway up the mountain in the mid-19C. A hundred years later, my characters arrived by train, and so do we–ready to walk their paths.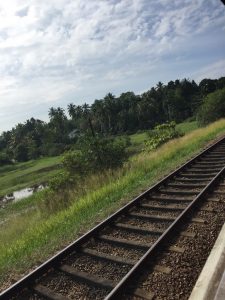 But
history clings to its mystery,
and a key location will prove elusive. I will learn that books and, of course, the internet can lead us astray, proving the value of one-the-ground research.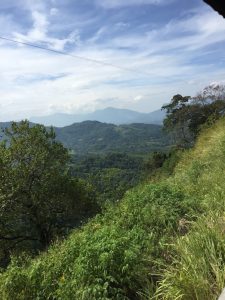 By the time of my novel, the British Empire was in retreat. Japan's push through Asia seemed unstoppable; every colony had fallen and now India itself was under threat. The Southeast Asia Command, headed by Admiral Lord Louis Mountbatten, moved from Delhi to Kandy, along with many Americans–among them, my cast of characters, who were attached to SEAC on an ad hoc basic.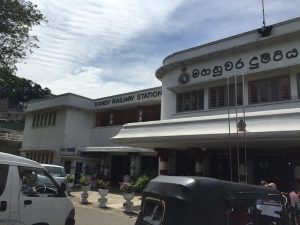 SEAC was based in the former Royal
Botanic Gardens at Peradeniya, a little outside Kandy.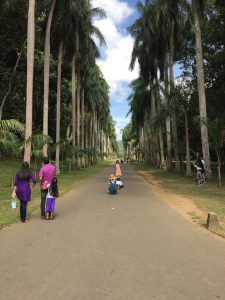 I especially want to find Mountbatten's headquarters here–identified in my research as the King's Pavilion.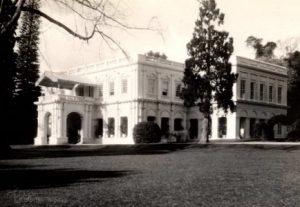 I am to be aided by a Twitter friend, international botanist Dushyantha Large. (Kudos to Twitter for connecting people, for building bridges not walls.) "Call me Dushy," are her first words as we meet IRT.
A brilliant scholar who views each tree, plant, and flower as well-loved individuals, Dushy now lends her considerable knowledge to the Peradeniya (formerly Royal) Botanic Gardens. And has offered to share it with us!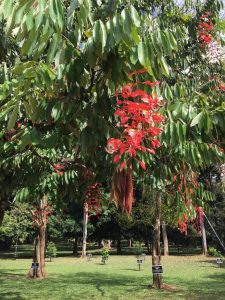 We begin our tour near the graceful and elegant Amherstia nobilis, Pride of Burma, shown above in bloom.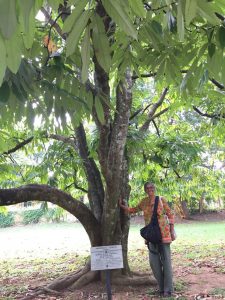 His personal favorite, Mountbatten planted this specimen near the entrance right after the war. Meet Dushy!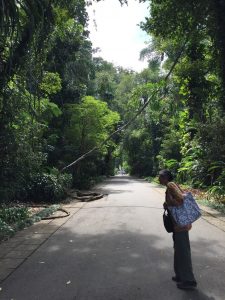 With humor and patience, she shows us around the calm, spreading gardens. I try to imagine the place bustling with British and American SEAC staff, their offices in temporary basha huts. While the officers and civilians slept in Kandy hotels, the troops stationed here slung hammocks between trees.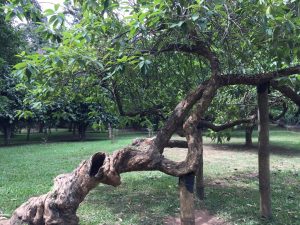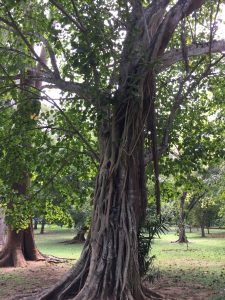 As we show my
King's Pavilion
photo around, the few who recognize it insist this estate is not here but in Kandy, near the Temple of the Tooth. The picture painted in my mind's eye by my research is not accurate. I must dig deeper. In the meantime, we can enjoy monkeys and "flying foxes," the local bats.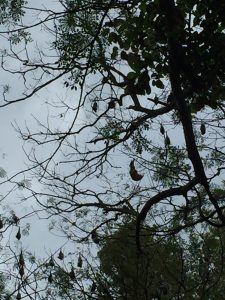 We continue our explorations in a 3-wheeled tuk-tuk.

Our driver takes us up a rugged track to Mountbatten's weekend bungalow (now a high-end hotel).
The American base was in a former tea estate near the Botanic Gardens in Peradeniya, but seeing such development in the area, I realize it is long-gone. At least the geography lives in my mind, though. Along with an image of the Gardens bustling with SEAC personnel. I'm still left with the mystery of King's Pavilion, though. Where was Mountbatten's Headquarters?

To regroup, we return to Queen's Hotel…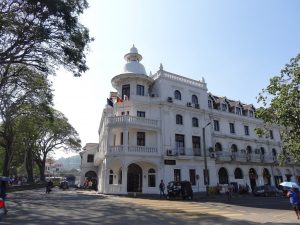 Queen's Hotel, photo by Dushyantha Large
And its venerable Lord Mountbatten Lounge Bar.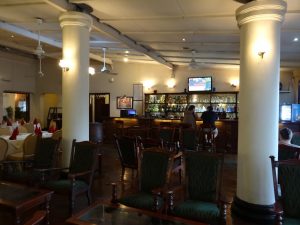 Queen's Hotel Bar, photo by Dushyantha Large
Next: The search continues in Kandy
Kandy Town and Lake