After flying cross-country to Dali, we're eager for our "slow" train through Yunnan's scenic mountains down to Kunming. But soon after arriving at the station, we are ordered to evacuate, due to "equipment problems." Everyone, even support personnel, is driven out while police and security officers pour in. With no further explanation, we all stand around, trading rumors—many translated to me by a young Chinese woman. She doesn't believe the official reason. As this is a restive border region, I think maybe separatists or escaped prisoners? The burning question: Will we be able to continue our travels? Will this be a short delay or should we try to catch a long-distance bus? By now we're joined by three European grad students. With the woman (in a hurry to reach Kunming for the World Cup broadcast), we decide on the sure bet and traipse several blocks to the bus terminal… Along with many others, desperate to get on the road. Seats are difficult to obtain, but the woman makes sure we are all taken care of before moving on. Throughout China, I find people eager to help—often going out of their way to do so.
We're lucky to get the very last seats on a crowded bus. Still, I'm sorry to miss our train ride through the countryside as it descends to a broad highland plateau. We reach the outskirts of Kunming at dusk.



Now a major city, Kunming was a small railway stop until World War 2 shook things up. Drawn here for book research, I come in search of that wartime past when China was struggling to hold off Japan. American support became critical, and the famed Flying Tigers established a base on this remote plateau. Later, so did the US intelligence agency, OSS, the Office of Strategic Services. Late in the war, my characters were posted here, undertook secret missions, and fell in love.

By great coincidence, our landscape designer friend who's worked in Kunming off-and-on for 20 years is here now. We're lucky to have him as our guide, as I attempt to conjure what it was like, back in the day. Tim witnessed the wholesale leveling caused by "development" and predicted they'd rebuild "old town" in ten years. It took them five. We begin in the northern hillsides at the 17C Tongwa, or Golden Temple, on Mingfeng, Singing Phoenix Hill.
The next day we visit Lake Dianchi, "Sparkling Pearl Embedded in a Highland." It spreads before us like a sea of lotus blossoms and water lilies. The US Air Force base was nearby south of town, so my characters would have known it.
Lotus blooms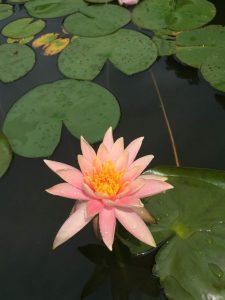 Water lily
The crowds are out with their cameras to enjoy a perfect Sunday.


I see proud families posing in front of this hammer and sickle.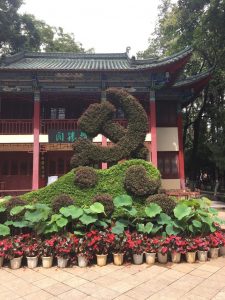 Topiary hammer and sickle
Green Lake Hotel is worth a trip just for the sumptuous breakfast buffet, which we've fantasized about since our visit five years ago. We're in the old University and French district across from Green Lake, a precious oasis in the big city. The park is a lively spot where lovers meet, as well as old people doing traditional songs and folk dances. Even singing pro-Mao songs.

I scout-out more potential settings for my book. French colonial buildings, cobbled streets and lanes.
Like all of China, development and overdevelopment have paved over the past, but bits and pieces remain for her citizens to cherish. Soon we're off to Chongqing, the wartime capital of Nationalist China, the second main base of American operations.



Next stop: Chongqing (old Chungking)