To continue my novel research, we drive down from Sri Lanka's central highlands to Trincomalee Harbor, where the Americans and British had bases during WW2. No battleships or destroyers now, but a bevy of fishing vessels.
In the distance are the ancient ramparts of a Portuguese fort that later passed from the Dutch to the British. Fort Frederick is now in Sri Lankan hands. This building is my setting for British Naval Intelligence.
More of Fort Frederick's gracious colonial architecture.
In an odd juxtaposition, the fort road continues up the point to Koneswaram Temple, dedicated to Lord Shiva.
Location! Location! Location!
A fierce devotée of Shiva, Ravana is an important character in the South Asian epic, Ramayana. Below is Ravana's Cleft.
Love this railing.
Worshippers can also throw down a coconut shell to ask for blessings. If it cracks, your prayer will be answered.


Nandi is gatekeeper of Kailasa, the sacred abode of Shiva. Nandi is also the guru of Shiva's eight disciples, one of whom, Patanjali, is author of the Yoga sutras.
Another view on our way out.
Our final days in Sri Lanka are spent in an architectural wonder, Kandalama Hotel, built in close harmony with the environment. Here is one of our friendly visitors.
Mom and kids.
BREAKFAST!
Hotel creatures.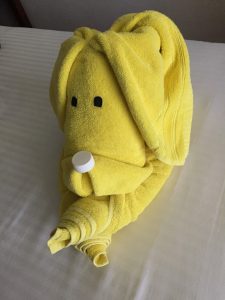 Next stop: SOUTH INDIA!