Continuing my book research, we fly from Sri Lanka to the old British port of Madras, now Chennai. During WW2, my character arrived by ship in Bombay, then traveled by train across India and down the southeastern coast en route to what was then Ceylon.
Our hotel is Leela Palace, an elegant haven of art, flowers, and food.
Marigolds represent perseverance and good luck.
My breakfast dosa reminds me of an artist's palette. Almost too pretty to eat. Almost!
The hotel is known for its bakery. Cake, anyone?
In the morning we go to the Kapaleeshwarar Shiva Temple. Demolished by Portuguese invaders, this temple originally stood where the St. Thomas Church is now located.
I wonder how often they have to repaint these marvelous facades.


Indian temples are more than places of worship. Beyond these columns and railings is an open-air space where people socialize.
A view into the central pavilion.
Do you think this fellow spent a past life as a carousel horse?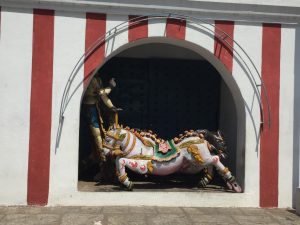 Everywhere, I marvel at the details.
Speaking of which…I am smitten by this old door.


Our next stop is the former British Fort St. George–and another grand old door.
I'm also a sucker for old beams.
A small outdoor shrine inside the fort grounds.
St. Thomas, one of Jesus's twelve apostles, proselytized through South India until his death in what was then Mylapore. Marco Polo visited the shrine that housed his remains, which were later moved to the Santhome Church, built over an ancient Shiva temple. Here, it is decorated for Christmas.
Evening is a special time in India, a respite from the day's often cruel heat. Water features are everywhere. The Leela Palace is magical at night.
Next stop: Down the Coromandel Coast to Pondicherry/Puducherry